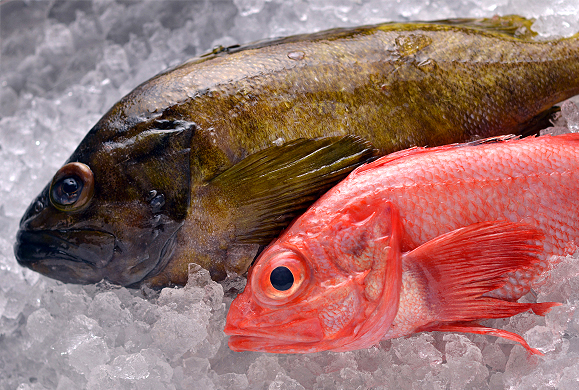 Choice truly delicious ingredients
We want our customers to have what's really delicious in Hokkaido. With this wish in mind, Hachikyo is ready to serve you choice marine and farm delicacies. Fresh seasonal fish and shellfish are delivered from various fishing ports. The seasonal vegetables are those grown on vast plains. Rather than limiting ourselves to specific areas of production for ingredients, when we make a purchase, we put our efforts into selecting what's most delicious.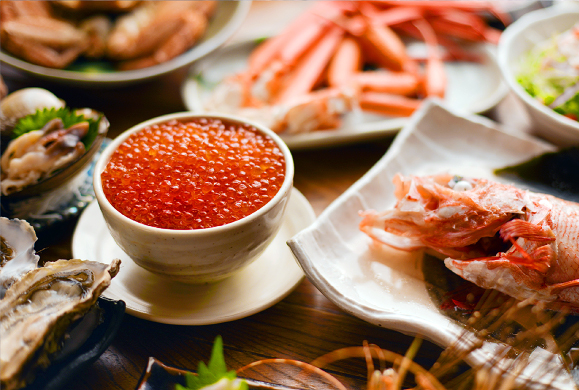 Gratitude with every dish
With feelings of gratitude towards fishermen and farmers who always deliver fresh ingredients, we're always serious about fish, shellfish and vegetables. Treasuring the flavors of the ingredients, we feel a deep sense of commitment to making the finest cuisine. Sometimes we present a fancy dish in the style of Hachikyo; other times, we cook a dish just how it's cooked where the ingredients were produced. Enjoy delicacies in Hokkaido, a treasure-trove of ingredients.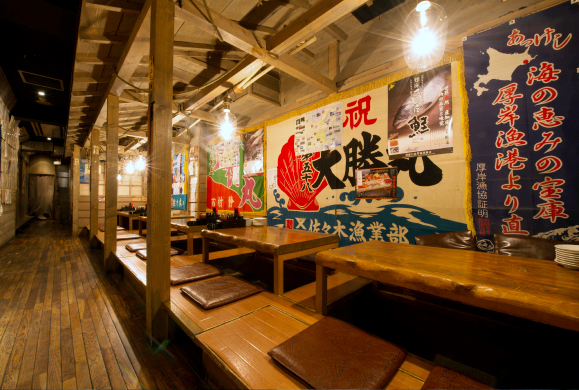 Our Japanese pub has the ambiance of a banya (a simple lodging used by fishermen).
The interior features ring buoys, fishing lamps and fishing boat flags that indicate large catches. These all symbolize Hachikyo. These create the atmosphere of a banya lodging where fishermen used to gather. Befitting such an interior, our staff show great exuberance. We hope our customers will enjoy not only our meals but also our service. To realize this, all of our staff work diligently and enthusiastically in dogi martial arts outfits, in anticipation of your visit.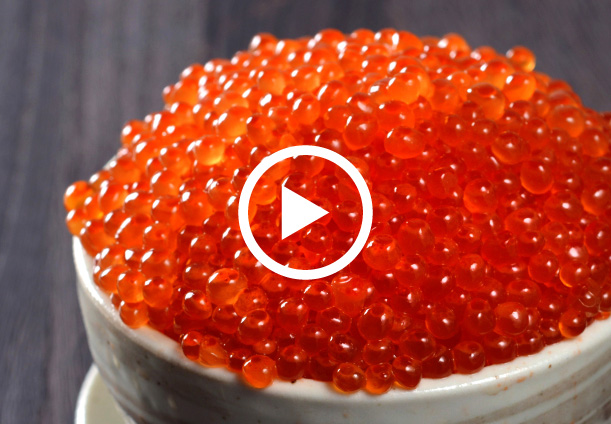 We serve only the best salmon roe produced in Hokkaido and delivered by producers with confidence. Our staff pour salmon roe brined in soy sauce over bowls of rice until the roe is almost overflowing the bowl. Enjoy the rich taste and bursting texture of salmon roe.
Tsukko meshi

L 4,650 yen

M 2,350 yen

S 1,850 yen

Salmon roe in a small pot 1,390 yen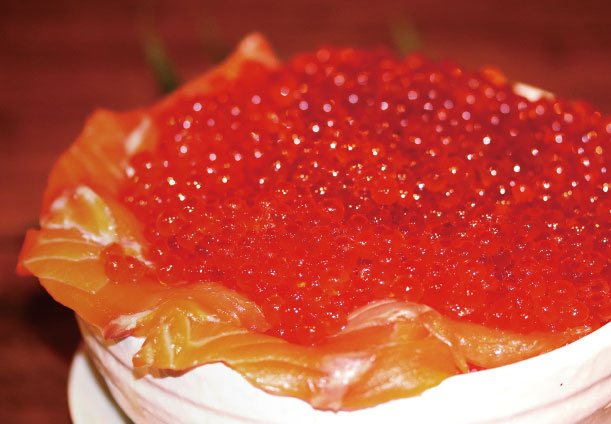 Overflowed salmon roe & salmon-sashimi bowl
Oyako tsukko meshi

L 5,550 yen

M 2,750 yen

S 2,200 yen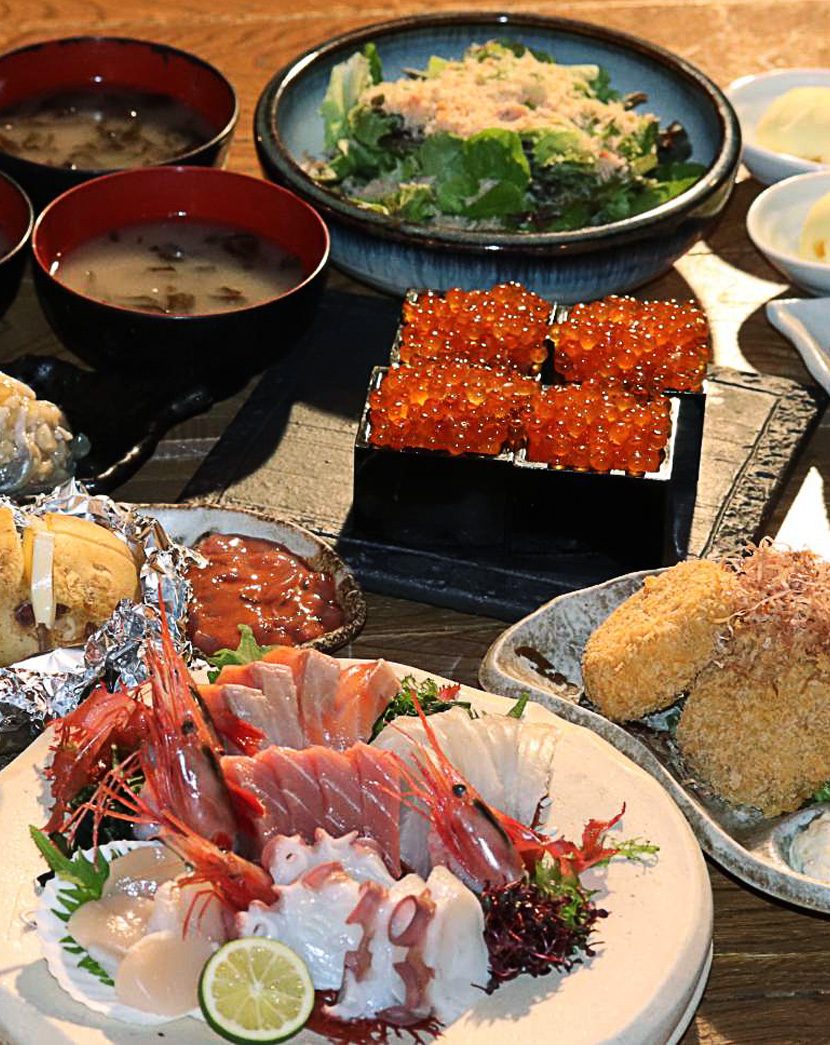 No reservations are required. We encourage even patrons dining alone to order this set.
3,636 yen Marutoku ("great value") dinner set

(tax excluded)


"Great Value" dinner set and All-you-can drink deal 6,000 yen

(tax included)
The dinner set consists of 10 dishes, including our specialty "tsukko meshi" (salmon roe brined in soy sauce over rice).
Reservations are required. (The minimum reservation is for one person.)
■The dinner set
Today's "otoshi" appetizer
Shiretoko salad
Sashimi sampler (6 kinds)
Steamed potato with fresh butter and shiokara(salted squid guts)
Grilled Hokke fish from Hokkaido
Today's an a-la-carte
Today's fried dish
Hachikyo's specialty: "tsukko meshi"
Miso soup
Today's Sherbet
---
Enjoy the seasonal delicacies of Hokkaido at Hachikyo.
011-522-8921

FA-S3 Building 1F, Minami 3 Nishi 3 14-2, Chuo-ku, Sapporo, Hokkaido, Japan

011-522-6530

Miyako Building 5F, Minami 3 Nishi 3, Chuo-ku, Sapporo, Hokkaido, Japan

011-241-0841

TM-24 Building 1F, Minami 3 Nishi 3, Chuo-ku, Sapporo, Hokkaido, Japan

011-281-0296

TM-24 Building 2F, Minami 3 Nishi 3, Chuo-ku, Sapporo, Hokkaido, Japan

011-222-8940

Miyako Building 1F, Minami 3 Nishi 3, Chuo-ku, Sapporo, Hokkaido, Japan

011-206-4968

FA-S3 Building 1F, Minami 3 Nishi 3 14-2, Chuo-ku, Sapporo, Hokkaido, Japan

011-212-1962

TM-24 Building B1F, Minami 3 Nishi 3, Chuo-ku, Sapporo, Hokkaido, Japan